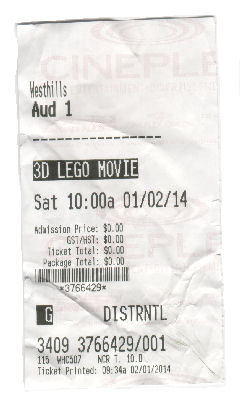 This morning I had the opportunity to attend a pre-screening of The Lego Movie. I am an active adult Lego builder, but I don't have much exposure to Lego's digital offerings. I have never played a Lego video game and I rarely see TV commercials for Lego products. As a result, I wasn't really sure what to expect going in to the movie.
Most of the movie consists of digitally rendered Lego bricks. The opening scenes had a stop-motion flavour to them that I found distracting, and I was initially concerned that this flavour would be retained throughout the movie. However, I'm happy to report that a more fluid animation style is used through most of the film and that my initial fears were unfounded.
The movie's principle character is a generic construction worker named Emmet, voiced by Chris Pratt. Emmet embarks on action packed, and at times comedic adventure as he goes from being an unknown member of Lego society who is just trying to fit in to the saviour of the Lego universe. Along the way he builds a relationship with Wyldstyle, voiced by Elizabeth Banks, and receives advice from Vitruvius, voiced by Morgan Freeman, as they work to defeat Lord Business, voiced by Will Ferrell. Everything works out in the end, as you would expect in a children's movie, though I suspect that the exact form of the movie's conclusion came as a surprise to most members of the audience.
References are made to many of Lego's product lines in the movie, including Star Wars and Kingdoms among several others. However the vast majority of the movie takes place in city and old west settings. The complexity and detail of the world is impressive and would likely require millions, or even tens of millions of bricks to physically construct. Licensed characters that make an appearance include Batman, Green Lantern, Superman, Gandalf, Han Solo and C-3P0, among others.
One significant disappoint with the screening was the lack of organization at the theatre itself. The local media sponsor attempted to run a spontaneous dance competition for children at the front of the theatre before the screening which was not well thought out. Kreo figures (a competing product to Lego) were being handed out by another sponsor. This was both surprising and disappointing.
My overall impression of the movie was positive. I'll definitely buy the DVD or Blue Ray when it is released, and I'll watch it again at that time. The movie will undoubtedly entertain any builders in your household for its duration, and likely for several repeat viewings. I give it 4 bricks out of 5.