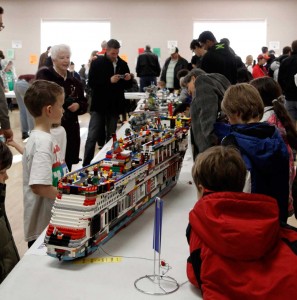 That dusty box of Lego that you can never seem to get rid of could have won you a first place ribbon Saturday, Jan. 21 at the Silver Springs Community Centre's sixth annual Lego competition.
Hundreds of spectators visited the tables showcasing intricate figures, spaceships, cars, houses and other creations made by the numerous contestants.
The participants competed against others in the same age bracket ranging from two to 19 and over.
"It's more fun playing with Lego as an adult," said Ben Stephenson, professor at the University of Calgary in the department of computer science.
"You can afford more pieces and build much larger projects."
Stephenson is a past Lego competition champion, who regularly enters his Lego creations.
Stephenson's three entries in this competition included a carrot-nosed snowman, a tropical island complete with sea monsters and a red race car.
Each creation was composed of thousands of Lego pieces, all different shapes and sizes, to create the desired design.
"I have been playing with Lego since I was in grade school," said Stephenson.
Stephenson spent about three painstaking months designing and building each project, complete with their own unique frustrations.
"The race car wasn't turning out quite how I wanted it to, so I gave up until about two weeks ago."
Stephenson buys his Lego in the U.S. instead of at Calgary's new Lego store in Chinook Mall.
"Lego pieces in the States are almost 30 per cent cheaper, so I make sure I pick some up every time I'm down there. You need a lot to build things like this," said Stephenson.
The event was sponsored by IMV Projects and Bricks 4 Kidz, a company that provides programs for kids to learn about engineering, architecture, and mechanics using Lego.
This article is (C) 2012 The Polytechnic Press.